Description
Quasar (pronounced /ˈkweɪ.zɑɹ/) is an MIT licensed open-source Vue.js based framework, which allows you as a web developer to quickly create responsive++ websites/apps in many flavours:

SPAs (Single Page App) SSR (Server-side Rendered App) (+ optional PWA client takeover) PWAs (Progressive Web App) Mobile Apps (Android, iOS, …) through Apache Cordova Multi-platform Desktop Apps (using Electron) Quasar's motto is: write code once and simultaneously deploy it as a website, a Mobile App and/or an Electron App. Yes, one codebase for all of them, helping you develop an app in record time by using a state of the art CLI and backed by best-practice, blazing fast Quasar web components.

When using Quasar, you won't need additional heavy libraries like Hammerjs, Momentjs or Bootstrap. It's got those needs covered internally, and all with a small footprint!
Monthly Downloads: 0
Programming language: JavaScript
License: MIT License
Quasar Framework alternatives and similar libraries
Based on the "Editors" category.
Alternatively, view Quasar Framework alternatives based on common mentions on social networks and blogs.
Appwrite is an open source backend server that helps you build native iOS applications much faster with realtime APIs for authentication, databases, files storage, cloud functions and much more!
* Code Quality Rankings and insights are calculated and provided by Lumnify.
They vary from L1 to L5 with "L5" being the highest.
Do you think we are missing an alternative of Quasar Framework or a related project?

Add another 'Editors' Library
README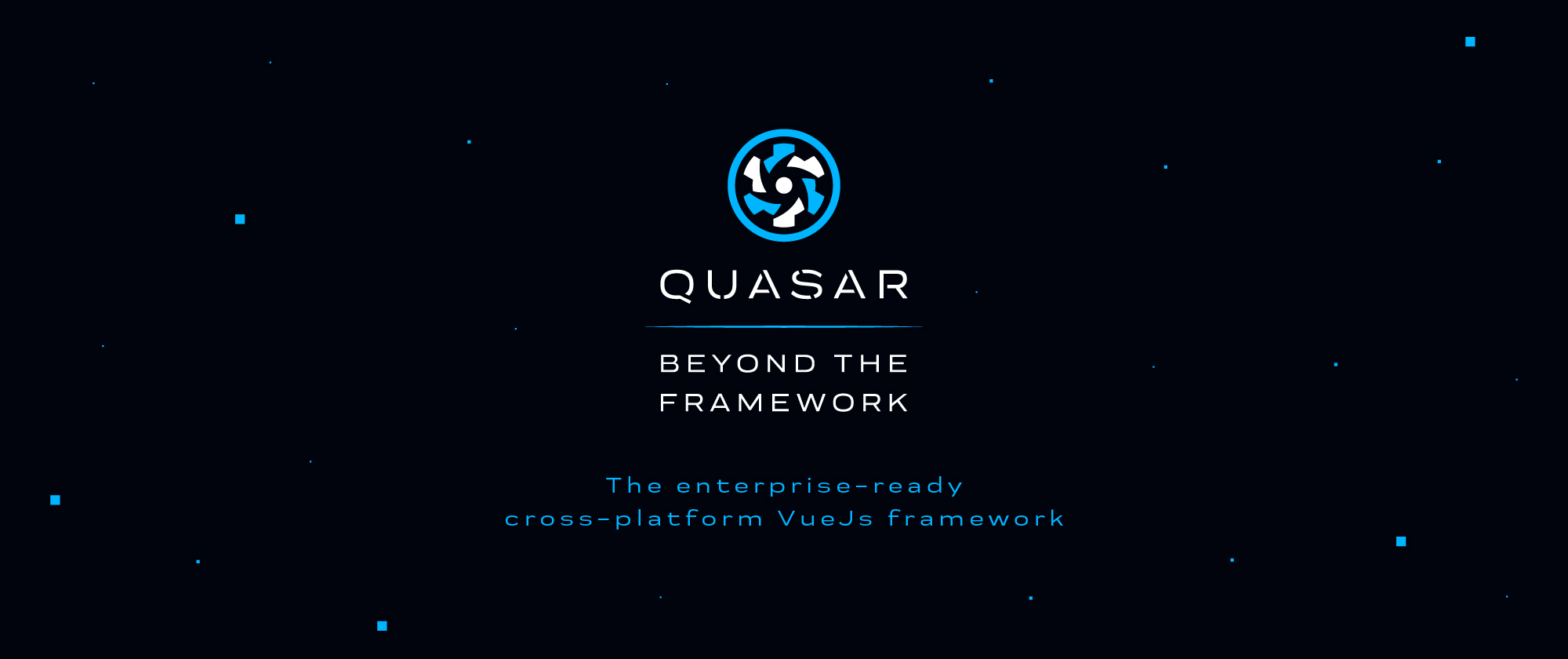 Quasar Framework
Build high-performance VueJS user interfaces in record time: responsive Single Page Apps, SSR Apps, PWAs, Browser extensions, Hybrid Mobile Apps and Electron Apps. If you want, all using the same codebase!
Please submit a PR to https://github.com/quasarframework/quasar-awesome with your website/app/Quasar tutorial/video etc. Thank you!
Supporting Quasar
Quasar Framework is an MIT-licensed open source project. Its ongoing development is made possible thanks to the support by these awesome backers.
Please read our manifest on Why donations are important. If you'd like to become a donator, check out Quasar Framework's Donator campaign.
Proudly sponsored by:
Documentation
Head on to the Quasar Framework official website: https://quasar.dev
Stay in Touch
For latest releases and announcements, follow us on our Twitter account: @quasarframework
Chat Support
Ask questions at the official community Discord server: https://chat.quasar.dev
Community Forum
Ask questions at the official community forum: https://forum.quasar.dev
Contributing
Please make sure to read the [Contributing Guide](./CONTRIBUTING.md) before making a pull request. If you have a Quasar-related project/component/tool, add it with a pull request to this curated list!
Thank you to all the people who already contributed to Quasar!
Semver
Quasar is following Semantic Versioning 2.0.
License
Copyright (c) 2015-present Razvan Stoenescu

*Note that all licence references and agreements mentioned in the Quasar Framework README section above are relevant to that project's source code only.